Some people like to say that Bend, Oregon has it all. Great trails, restaurants, breweries, and coffee. Well, they are probably right! Bend, Oregon has an incredible selection of coffee roasters found all over town so you're never far from a fresh bag of beans or latte.
Bend, Oregon Coffee Roasters
There may be no more "In Bend" coffee roaster than Megaphone Coffee Co. Walking up to their location on NW Galveston you'll quickly notice that they share a space with the Boss Rambler Beer Club. This means you can hang out sipping lattes until 3pm and then switch over to IPAs for the afternoon without ever leaving the building.
Despite their beers and brew location they still are a coffee roaster at heart and produce some great coffees and drinks. One of our favorite chilly fall day activities is to park by Miller's Landing park and walk over to their coffee shop on Galveston for one of their excellent lattes.
West Side
1009 NW Galveston Ave
Lone Pine Coffee Roasters makes some of our favorite beans in Bend.
The Long Pine coffee shop just off the downtown hustle on NW Harriman. It only takes a minute to walk over from the downtown strip but once inside you feel like you've escaped completely. The cafe features a warm brick interior with black walnut furniture and an impressive array of plants.
It is a great place to hunker down for a bit with a latte and a treat from Foxtail Bakeshop.
Thump coffee is one of the bigger roasters around with 3 retail locations in Bend and 2 in Denver, CO. Luckily for us they know how to nail the details in the retail shops.
Their first location in downtown Bend is cozy yet still feels like the spot to settle in for an hour or two. Its also not surprising to stop by when they open at 6am and see a group of runners or cyclists settling in at the outside tables for a post workout break. Such is the life in Bend!
Their NWX crossing location offers one of the better coffeeshop views you'll find anywhere. Perched up above the Summit High School sports fields you get an incredible view of the Cascades. Throw in their amazing coffee, fresh baked breads, and pizza and you've got a great spot to visit.
Downtown
25 NW Minnesota Ave
Northwest Crossing
549 NW York Dr #200
1001 Tech Center
1001 SW Emkay Dr #110
Strictly Organic Coffee Company has been on the Bend, Oregon coffee roasting scene for over 20 years now. From day 1 they have focused on not only producing a great cup of coffee but doing it in the most environmentally friendly way possible.
As the name implies all of their beans are 100% organic. Their coffee shop is centrally located off of Bond St on the west end of the Box Factory. The outdoor patio is a favorite amongst people coming and going from the old mill area.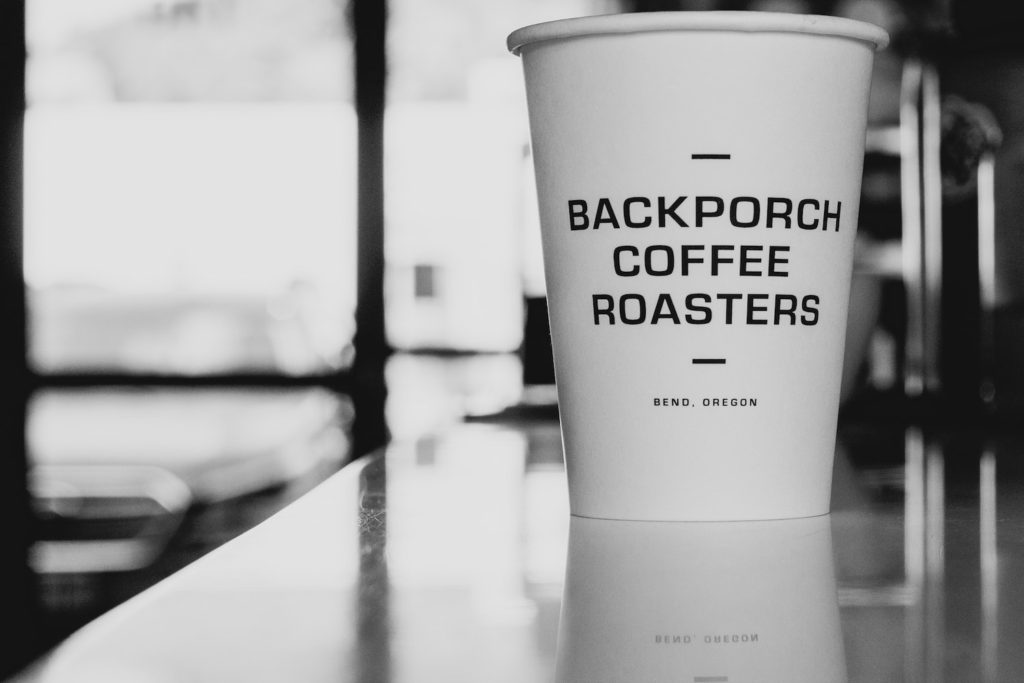 Back Porch Coffee Roasters in Bend is the other big name roaster in the city. With 3 cafes and a drive through location on the east side you're never far from a free cup of coffee.
Their Newport Ave location is just across the street from Chow which makes is a great stop for a cup of coffee before heading out on a walk to burn off some of those brunch calories.
Given the west side heavy weighting of most of the locations we're highlighting today its nice to have the Backporch drive through and Greenwood cafe as east side options.
Their Greenwood cafe has a modern, airy feel to go along with their amazing coffee. Our 4 year old has also confirmed that they make the best hot chocolate in town as well.
Newport
1052 NW Newport Ave #103
Greenwood
706 NE Greenwood #140
Drive-Through
1075 SE 15th St
Bellatazza coffee's central downtown location makes for a great stopping off point while shopping. Their inviting space features not only their fresh roasted coffee but also an assortment of pastries and sandwiches.
Downtown
869 NW Wall St #101
Still Vibrato is a local roaster who is currently working on opening up a retail shop off of Century Dr. In the meantime their beans are available in the local grocery stores around town. They also have a roasting facility near the box factory that is open by appointment only.
Bohemian Roastery is an eclectic little coffee roaster that can be found in farmers markets around town. Unlike most roasters who roast their beans using natural gas a heat source, they roast using only wood. This labor intensive process leads to a great coffee.