Bend, Oregon has one of the best paddle boarding scenes of anywhere in the country. Beautiful summer weather, tons of incredible SUP locations and a plethora of board rental options make for an amazing experience.
Whether you are a local who owns your own board or a weekend visitor looking to get out paddle boarding on the Deschutes river for the first time we've got you covered.
Paddle Board Rentals in Bend
There are no shortage of paddle board rentals in Bend. And luckily they are scattered all over the area so no matter where you are you are probably close to a rental location.
Sun Country Tours offers both SUP rentals and tours with drop off locations in Bend or Sunriver. Their tours run 1.5 hours and let you enjoy the little-used stretch of the upper Deschutes River between Benham and Dillon Falls.
Stand On Liquid is a local paddle board company that also offers rentals as well. So whether you are looking for a new board or just need one for a few hours they are a great option. We love their inflatable paddle board selection as they are a lot easier to haul around town and up to the lakes without relying on a roof rack.
SUPRents is a nationwide paddle board rental company that, for good reason, is headquartered in Bend. Their normal business model is to ship inflatable paddle boards to customers by mail to use as a rental. Luckily for us they also offer local rentals of their inflatable paddle boards at a discounted price.
If you have ever floated the river odds are you have seen Tumalo Creek and their rental options. They are set up right along the Deschutes next to the old mill and offer a great selection of paddle boards, kayaks, and floating tubes for rent.
They have two locations to choose from – at their headquarters by the Old Mill or at their concession stand just up the rive at Riverbend Park.
Cascade Lakes Paddle Board Rentals
During the short summer season, the Cascade Lakes is one of the main paddleboarding attractions in Bend. Luckily there are plenty of spots to rent paddleboards all along the highway.
Elk Lake Resort rents out a variety of watercraft including paddle boards in 2 hour increments. Perfect for a weekend afternoon paddle.
Further up the highway Cultus Lake Resort offers hourly paddle board rentals.
Last but not least Crane Prairie Resort also has paddle boards for rent to get out and enjoy the views on the expansive lake.
If you are staying in Sunriver or just want to change things up for the day the Sunriver Marina offers paddle board rentals with a shuttle option so you can enjoy the downstream paddle. Prices are a bit more expensive than some of the other options but the 6-mile paddle and shuttle back is well worth it.
Where to Paddle Board in Bend
Bend has an amazing array of paddle boarding options from lazy downtown floats to stunning mountain lakes.
Paddle Boarding on the Deschutes River
Mirror Pond
It doesn't get more in Bend than floating on Mirror Pond through Drake Park on your paddleboard. This flatwater stretch of the Deschutes runs from the whitewater park to the dam at Newport Ave and is a great introduction to paddling in Bend.
Places you can put in your board along this route include Drake Park, Millers Landing Park, Harmon Park or Pageant Park.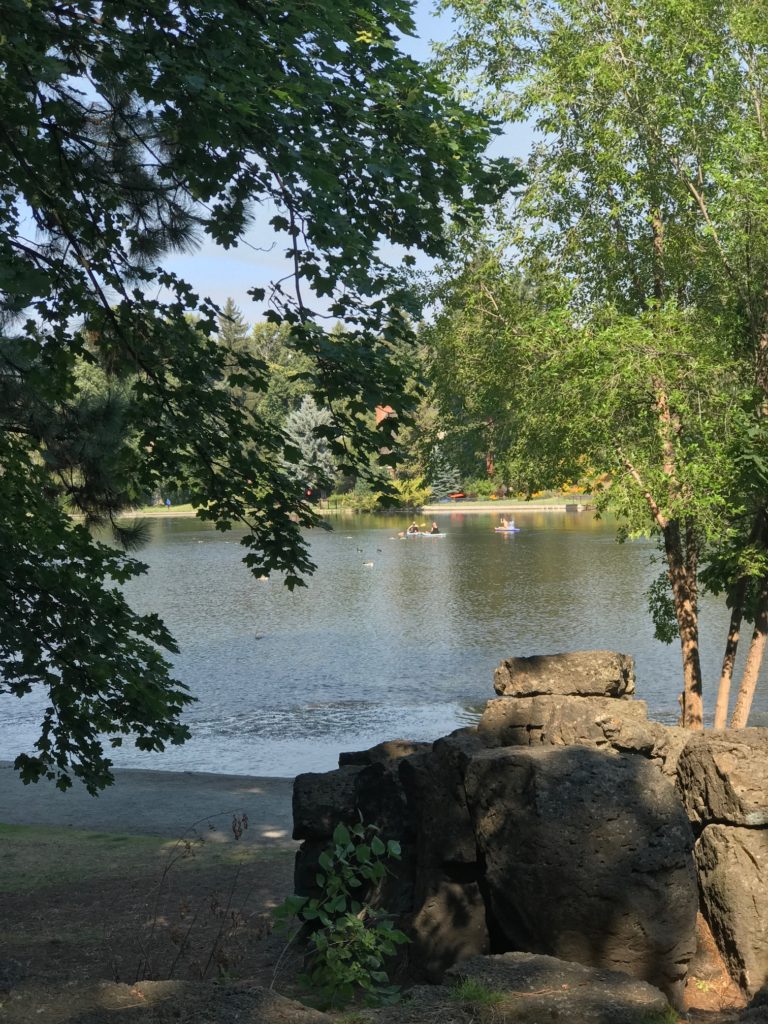 Riverbend Park
Riverbend Park is guaranteed to be the hottest spot in town on a warm summer day. Most folks out floating the river will start at Riverbend park, make their way through the whitewater park and float down to Drake Park where they will exit.
Putting in your board at Riverbend park and paddling upstream for half a mile to the Reed Market Rd bridge will get you away from some of the crowds. From there paddling back downstream to the whitewater park and back to Riverbend Park is ~2.5mile round trip.
Upper Deschutes
There are a number of great paddling options just south of Bend on the upper Deschutes. Know you area before you go though as some stretches of this river include rapids, steep canyon walls and even waterfalls. While most of these stretches of the river are pretty popular you should still plan on paddling with a friend for safety.
One of the most popular sections on the upper Deschutes is the stretch from Dillon Falls to Benham Falls. Put in your board at the Dillon Falls trailhead and you'll have a 2 mile paddle upstream followed by a leisurely float back down through unspoiled wilderness.
Paddle Boarding in Sunriver
If you're staying in Sunriver or just looking to mix up your paddling routine there are a few great options to choose from.
The Besson day use area is right behind the Sunriver airport and a great spot to launch from. There are ample paddling options heading both upstream or downstream.
Harper Bridge is another popular launch spot with plentiful roadside parking.
If you're renting a board you can also take off slightly further downstream at the Sunriver Marina. Note that you can only launch from the marina if you are renting a paddle board from them.
Paddle Boarding the Cascade Lakes Highway
Pick any summer day to drive up the Cascade Lakes Highway and you're guaranteed to see a parade of cars with paddle boards strapped to the roof. Luckily there are a ton of different paddling options along this road so there is room for everyone to spread out.
Todd Lake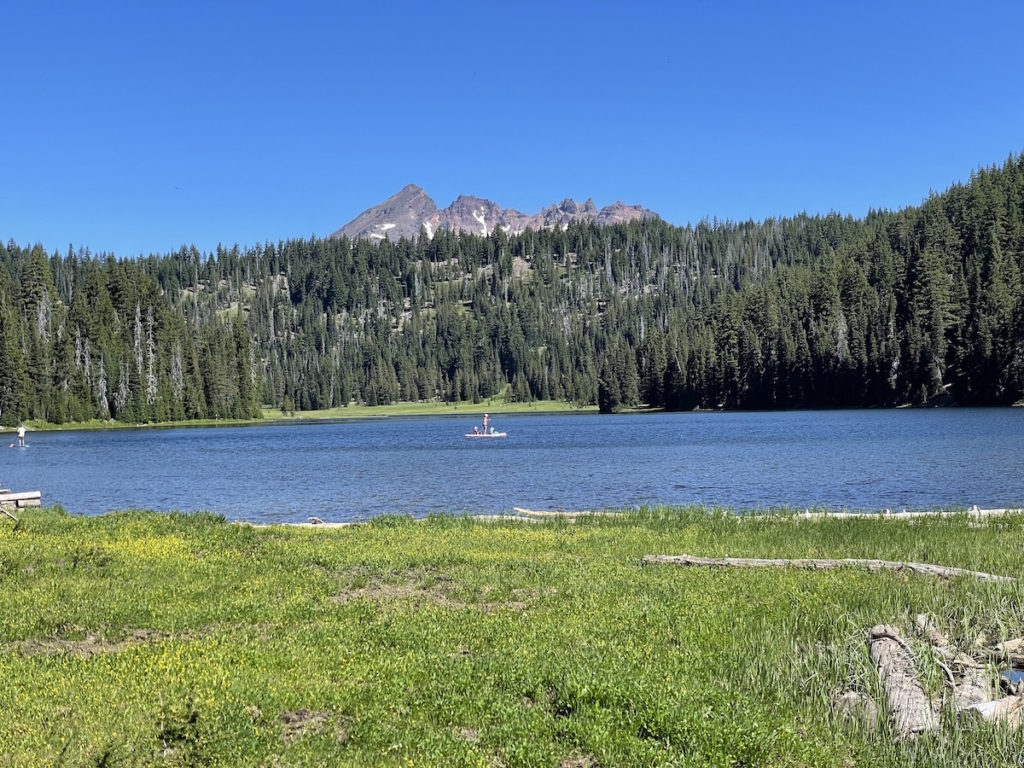 Todd Lake is a great spot for new paddleboarders to get their feet wet. Tucked just behind Mt Bachelor it is the first, and highest, lake off the highway. Sitting at 6,500ft of elevation Todd Lake features a serene paddling experience free of motorized watercraft. It also has some stunning photo opportunities with views of Broken Top and Mt Bachelor.
There is a short walk from the parking lot (longer if you try to find a parking spot at noon on a Saturday in July) so plan on carrying your board for 1/4 mile or so.
Devils Lake
Paddle boarding Devil's Lake is a jaw dropping experience due to the lake's stunning turquoise waters. While the lake is relatively small it is an experience not to be missed. The bottom of the lake is covered in white pumice which creates the beautiful turquoise color. Its relatively shallow waters throughout make it possible to see the bottom and the fish swimming beneath you as you paddle.
Note that parking in this area can fill up extremely fast as the lake also serves as a jumping off point for hikers making their way up to South Sister and Broken Top.
Sparks Lake
Sparks Lake is well known for its stunning views of Mt Bachelor, South Sister and Broken Top along with its meandering channels that transport you to another world amongst the lava formations.
The paddleboard launch on Sparks lake is located on the south side of the highway a few miles past Mt Bachelor. Take the dirt road for 1.6 miles to the Sparks Lake day use area where you can launch your board and park your car.
Take your time to explore the various channels and inlets around the lake. Even on the busiest days you can typically find space to yourself quite easily.
Note that this lake is extremely busy in the summer so consider showing up early. The water level also drops as the summer goes on so later in the season may require carrying your board through shallow water to find the channels.
Elk Lake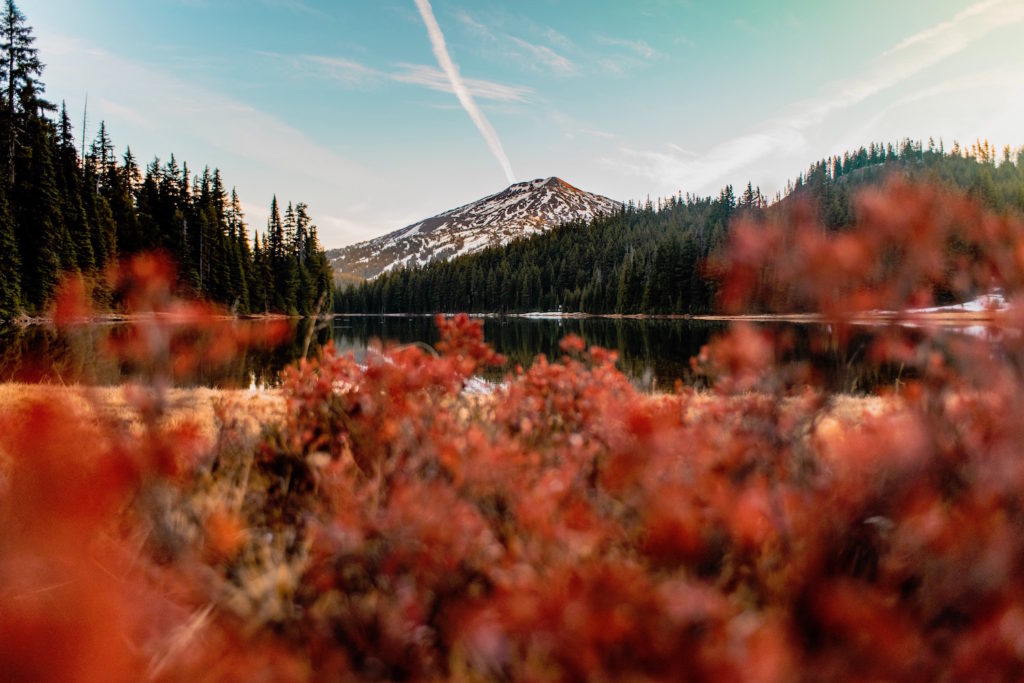 Elk Lake is a "has it all" type paddling destination. Beautiful views of the cascade mountains, a full service resort for food and drinks, rugged lakeshore with plenty of inlets to explore and campgrounds for a full weekend of paddling fun.
On a summer afternoon Elk Lake is never going to feel secluded but it is a great spot to meet up with friends and spend the day paddling followed by dinner and drinks.
Hosmer Lake
Despite being next door neighbors to Elk Lake, Hosmer Lake can feel like a world away. Hosmer Lake does not allow motorized boats so it comes with a far more peaceful setting. You are more likely to see fly fishermen casting from shore after an elusive salmon or trout that rowdy boaters out enjoying the sun.
Circumnavigating the lake along the shoreline offers a glimpse into the wildlife that lives around the lake. Bear, elk, deer, bald eagles and wood duck all call this lake home. Its shallow, clear waters also show off the world class fish that live here.
Cultus Lake
Paddle boarding at Cultus Lake is a great option for new paddlers. Its shallow waters extend a ways out from the resort and you can rent paddle boards on-site. Motorized boats are allowed on this lake but they tend to stay further out in the deeper waters.
Lava Lake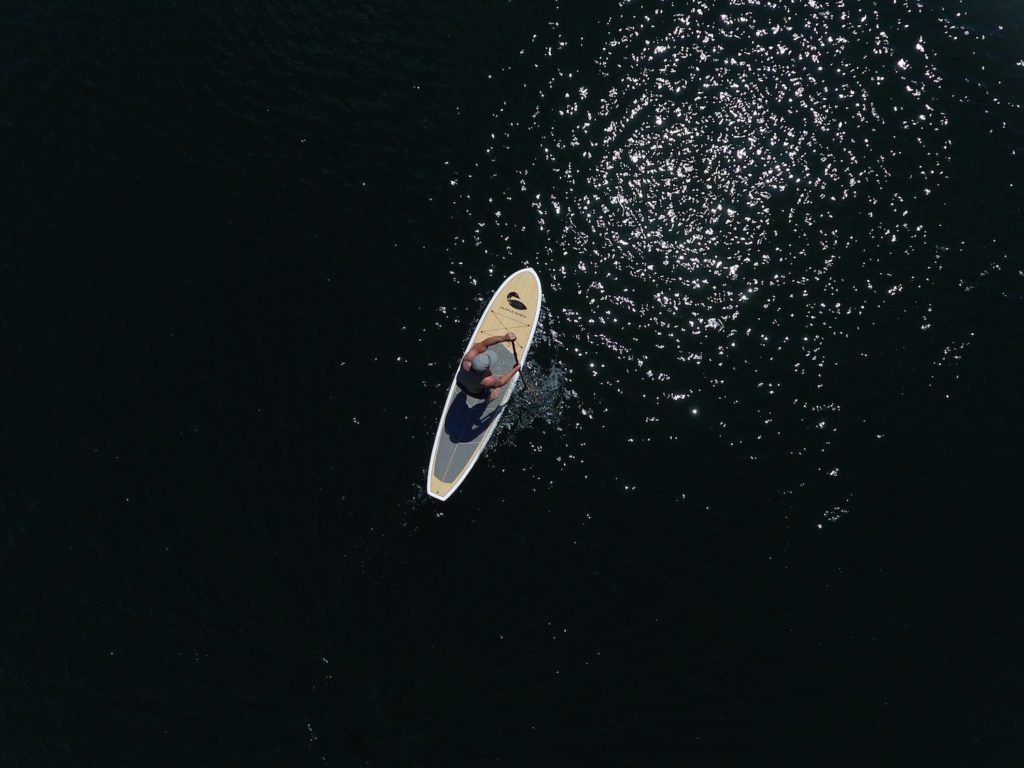 Lava Lake and its sibling, Little Lava Lake, are quieter options for paddle boarding on busy summer days. There is a small resort at and marina at Lava Lake that rents out a few paddle boards. The only lodging available around the lakes are tent and RV sites so the mood tends to stay fairly mellow.
Crane Prairie Reservoir
Crane Prairie Reservoir is approximately 1 hour outside of Bend and is also by far the largest of the lakes listed. The lake offers tons of areas to explore and features some of the best bird viewing in the area.
Watch out for boats out fishing for some of the famous Cranebow trout. Their impressive size attracts anglers from all over the area.
Final Thoughts on Paddle Boarding Around Bend, Oregon
Bend offers an amazing array of paddling options to choose from. There are dozens more options in the area to explore so you will never get "board".